Ollicle Flex – NetNewsWire style
Development of this style has been abandoned in favour of Ollicle Reflex which inherited the features of Flex and more.
Built on the CSS foundations of Ollicle Crisp; This style introduces presentational JavaScript to improve feed reading comfort in NetNewsWire in ways CSS alone cannot.
Resizes large images to fit your HTML pane width.
Optimises text line-height (leading), also depending on your window width.
Switch between two layout options with a click (great for photo blogs and comics!) and;
Stores this preference per feed (with a cookie).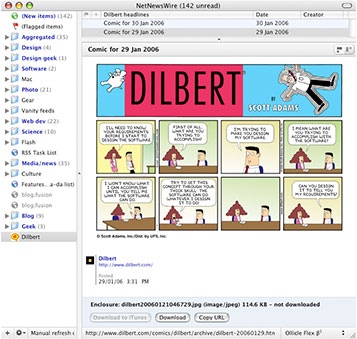 ollicle.com entry: NetNewsWire style with free cookies
Download: ollicle-flex.zip